gg vatti a nascondere:
"The statistics of English are astonishing. Of all the world's languages (which now number some 2,700), it is arguably the richest in vocabulary. The compendious Oxford English Dictionary lists about 500,000 words; and a further half-million technical and scientific terms remain uncatalogued. According to traditional estimates, neighboring German has a vocabulary of about 185,000 and French fewer than 100,000, including such Franglais as le snacque-barre and le hit-parade."
http://hypertextbook.com/facts/2001/JohnnyLing.shtml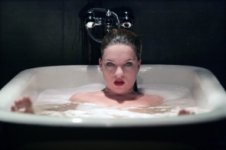 A guy walks up to me and asks 'What's Punk?'.
So I kick over a garbage can and say 'That's punk!'.
So he kicks over the garbage can and says 'That's Punk?', and I say 'No that's trendy!' oh yeah..